N'Dole: Steak and collard greens
Serves 5-6 people
INGREDIENTS: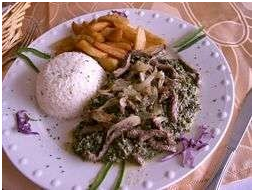 1 bunch collard greens
salt
chopped beefsteak: 1–2 lbs.
½ cube beef bouillon
½ large onion, sliced in thin wedges
¼ tablespoon chopped celery
¼ tablespoon parsley
½ cup roasted, shelled peanuts
½ teaspoon ginger paste
½ teaspoon garlic paste
black pepper or any kind of pepper to make it a little hot
vegetable oil
INSTRUCTIONS:
1. Chop collard greens and blanch in boiling, salted water for 2 minutes maximum until 'crisp tender.' (It shouldn't be too soft.) Drain and set aside.
2. Boil chopped beef with beef bouillon in about 1 cup of water, along with half of the sliced onion wedges, a little salt, celery, and parsley.
3. Grind peanuts in blender until peanuts are like a powder. In a large Dutch oven, fry peanut powder in a little vegetable oil until it smells roasted. Stir often, so the peanuts don't stick to the pot.
4. Add the cooked beef and beef broth to the peanut powder to make a thin sauce. Add ginger, garlic, and pepper.
5. Stir and add collard greens to sauce and let the mixture simmer for 2 to 3 minutes.
6. Fry the remaining onion wedges in oil until opaque. Just before serving, sprinkle these onions over everything.
Serving Suggestion: Serve with Corn Fufu
From: http://www.africancooking.org/Recipes/n%E2%80%99dolesteakandcollardgreenscameroon