Tablet Cocoye/ Sweet Coconut Candy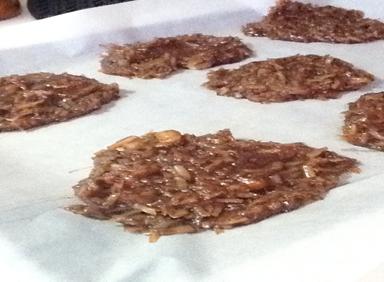 INGREDIENTS:
2 coconuts
1/2 cup freshly grated ginger root
3/4 gallon of water
4 cinnamon sticks
1 tbsp ground cinnamon
3 cups of white sugar
1 lemon zest
1/4 tsp of salt
6 small bay leaves
1/4 tsp vanilla extract
INSTRUCTIONS:
1. To get started, crack open the coconuts and scrape the white meat within the shell.
2. Using a food processor or hand grater, grate the white coconut meat into thick shreds.
3. In a pot, combine the grated coconut with ginger and add water. Bring to a boil over high heat.
4. Stir in the cinnamon sticks, cinnamon powder, and sugar. Add lemon zest, salt, and bay leaves.
5. Reduce the heat to medium high and stir occasionally. (After an hour, increase the heat)
6. As the consistency begins to thicken, remove the bay leaves and cinnamon sticks.
7. Stir constantly as it becomes more sticky. Add vanilla extract.
8. After a total of 2 hours, the consistency should be very thick and sticky. Turn off the heat.
9. Using a large spoon, transfer the desired size onto a baking sheet.
10. Let it cool down for 30 minutes before serving.
Haiti 2014 - Recipes
Tablet Cocoye/ Sweet Coconut Candy