Boiled Green Banana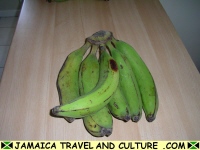 Green bananas look very much like yellow bananas but are very different in several respects, most notably their flesh is firm and starchy tasting rather than soft and sweet like a yellow banana's.
There are two methods of preparing boiled green bananas.
Boiling Green Bananas With the Skin On
INSTRUCTIONS:
1. Wash the bananas thoroughly in hot soapy water to remove any remaining traces of pesticides and artificial fertilisers.
2. Drop the bananas in to a saucepan of boiling water.
3. Boil for about 20 minutes - you will know they are ready if the flesh feels tender when pricked with a fork.
4. Peel then serve (the skin should come off fairly easily after cooking).
Boiling Bananas Peeled
INSTRUCTIONS:
It is much more difficult to remove the skin of a green banana than that of a yellow banana, the most commonly used technique is to:
1. Cut the ends of the bananas off.
2. Cut along each of the ridges.
3. Peel the skin away in sections.
4. The peeled bananas can then be boiled as per the instructions above.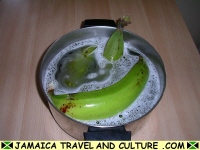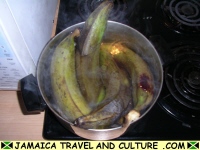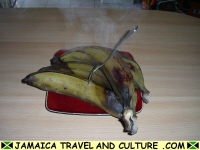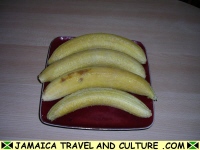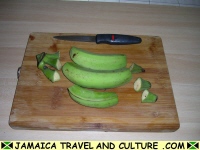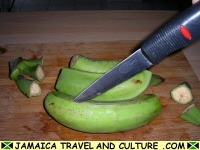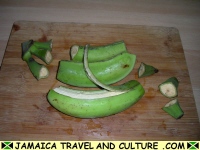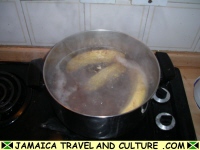 From:
http://www.celtnet.org.uk/recipes/miscellaneous/fetch-recipe.php?rid=misc-sakay