Jerk Chicken
You will need the following ingredients to prepare enough jerk chicken for 4 people: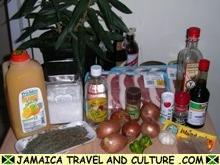 INGREDIENTS:
One 3 1/2 lb chicken (3lb of chicken breasts may be used if preferred)
6 sliced scotch bonnet peppers (jalapenos may be used if scotch bonnet peppers are unavailable)
2 Tbsp. thyme
2 Tbsp. ground allspice
8 Cloves garlic, finely chopped
3 Medium onions, finely chopped

2 Tbsp. sugar
2 Tbsp. salt
2 Tsp. ground black pepper

1 to 2 Tsp of the following (to taste)
-ground cinnamon
-nutmeg
-ginger

1/2 cup olive oil
1/2 cup soy sauce
Juice of one lime
1 cup orange juice
1 cup white vinegar
INSTRUCTIONS:
Preparation:
1. Chop the onions, garlic and peppers. These do not need to be chopped too fine as they will be liquidised by the blender.
2. Blend all of the ingredients (excluding the chicken) in a blender to make the jerk sauce.
3. Cut the chicken up in to 4 pieces.
4. Rub the sauce in to the meat, saving some for basting and dipping later. Leave the chicken in the fridge to marinade overnight.

Cooking:
Bake in the oven for 30 minutes, turn the meat then bake for a further 30 minutes.
or Grill the meat slowly until cooked, turning regularly. Baste with some of the remaining marinade whilst cooking. For best results, cook over a charcoal barbeque (ideally over a rack of pimento wood).

Serving:
1. Chop each quarter chicken portion in to 5 or 6 smaller pieces using a heavy cleaver.
2. Use a wooden spoon (or something similar) to hold the chicken in place whilst chopping and NOT YOUR HAND (you will be chopping with enough pressure to cut through bone!!!)
3. Serve with festival and salad or rice and peas or hardo bread and the jerk sauce left over for dipping.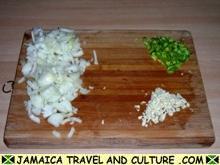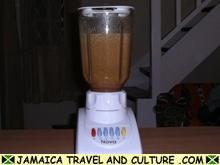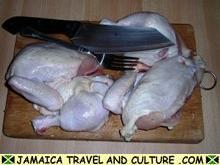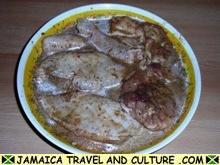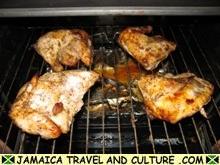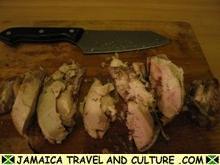 History: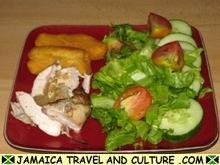 Jerk Chicken is believed to have been conceived when the Maroons introduced African meat cooking techniques to Jamaica which were combined with native Jamaican ingredients and seasonings used by the Arawak. The method of smoking meat for a long period of time served two practical purposes, keeping insects away from the raw meat and preserving it for longer once it has been cooked. This process also introduces a strong smoky flavour to the meat.

There are two commonly held theories regarding how the name "Jerk" came to be used. One is that it originates from the Spanish word "Charqui", used to describe dried meat. Over time this term evolved from "Charqui" to "Jerky" to "Jerk". Another theory is that the name derives from the practice of jerking (poking) holes in the meat to fill with spices prior to cooking. Nowadays, the word "Jerk" is used as a noun to describe the seasoning applied to jerked food and as a verb to describe the process of cooking used.