Dumplings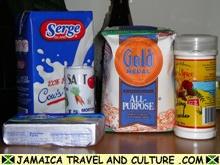 INGREDIENTS:
3 cups flour
2 teaspoons baking powder
1 teaspoon salt
1/2 cup butter
1/2 cup milk
Oil for frying
INSTRUCTIONS:
Preparation:
1. Sieve the flour in to a bowl, stir in the salt and baking powder.
2. Cut the butter in to small lumps and add to the mixture.
3. Work the mixture in to a breadcrumb-like texture.
4. Add the milk a little bit at a time and work in to the mixture (if it is added too quickly the mixture may not bind properly).
5. Knead the mixture until it is smooth.
6. Divide the mixture in to small balls about 5cm in diameter then flatten the balls so they are about 2cm thick. The dumplings are now ready to be either boiled or fried.

Cooking - Fried Dumplings
1. Heat the oil over a low heat.
2. Fry until golden brown (this should take about five minutes).
3. Place on a paper towel to absorb the excess oil.
4. Serve.

Cooking - Boiled Dumplings
1. Place the dumplings in boiling water for 15 minutes.
2. Drain and serve.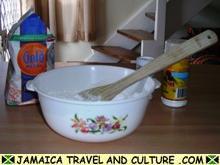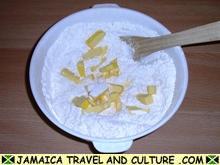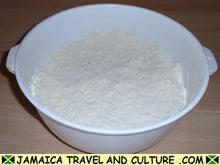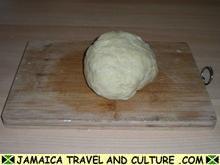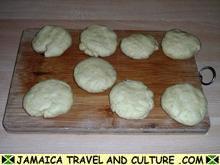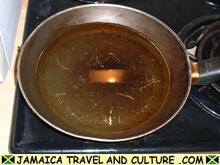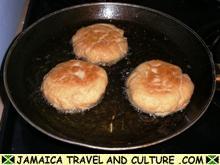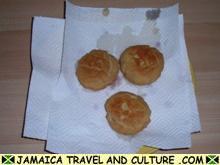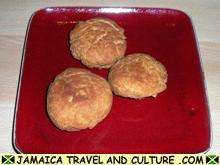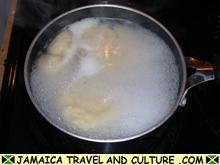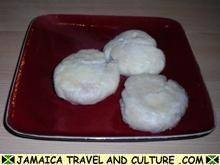 From: http://www.jamaicatravelandculture.com/food_and_drink/dumpling.htm